More About HHAMPTON1013
Visit My SparkPage
Send Me SparkMail
Recipes I've Shared:
Brunch Casserole Strada
This stuff is AMAZING!!!!!! Its high in nutritions and protien and you can eat it any time of the day, this is definatly a dish that I can not get tired of. It has so much flavor, you feel like eating more when you cant becuase it is so filling. Definatly an egg-cellent dish any time of the week and day!
NOODLESS SPAGETTI?!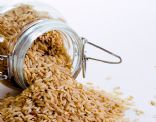 SPAGETTI REPLACEMENT OF NOODLES INTO BROWN RICE AND NO MEAT, ITS TASTY!!! LOWER CALORIES, FAT, AND CARBS THAN YOUR REGUALR SPAGETTI...JUST AS GREAT.
VEGI EGGPLANT PIZZA!!!!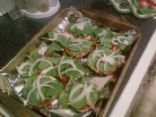 THIS IS PROBABLLY THE HEALTHIEST EGGPLANT RECIPE YOU WILL FIND ON HERE, I POSTED IT ON MY BLOG AND A FEW PEOPLE SUGGESTED I PUT IT ON HERE. THIS IS SOME GOOD STUFF!!! ESPICALLY IF YOU ARE A JALAPENO PERSON EVERY BITE YOU EAT, EAT SOME JALAPENO FRESH....PLUS IN CASE YOU DIDNT KNOW, JALAPENOS ARE KNOWN FOR A METOBLISM BOOST..GOOGLE IT :). I ATE HALF FOR DINNER AND THE OTHER HALF THE NEXT NIGHT FOR DINNER.
Recipes I've Rated:
Recipe Collections I've Shared:
Just Vegis
No meat :) YUM! I love meat but i love vegis even more

Soups
Yummy HEALTHY soups, I only choose healthy. If something isnt healty in it i will comment it when i add it...

Dips
Looking for those recipes that are helathier than ranch!!! Beucase I eat alot of raw vegis.