More About DIAMONSKYY
Visit My SparkPage
Send Me SparkMail
Recipes I've Shared:
Summer Squash and Chicken Delight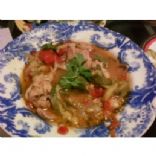 This light and hearty creation will tickle your taste buds and still flatter your figure!!
Recipes I've Rated:
DIAMONSKYY currently has no rated recipes.


Recipe Collections I've Shared:
Cactushoney
This cookbook is deticated to my mom and sister whom I watched all my life in the kitchen create homecooked masterpieces, I love them so much and am honored to share what Ive learned from these two amazing women. Enjoy !!