More About DBAUMAN3003
Visit My SparkPage
Send Me SparkMail
Recipes I've Shared:
Pioneer Woman Restaurant Style Salsa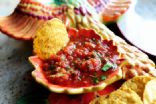 As seen on thepioneerwoman.com. This restaurant style salsa is DELISH and easy to make. I always keep it around the house for a healthy snack.
Gazpacho
My healthy summer staple - best with fresh from the garden vegetables. Cold tomato soup.
Recipes I've Rated:
DBAUMAN3003 currently has no rated recipes.


Recipe Collections I've Shared: