More About BLONDEREDHEAD1
Visit My SparkPage
Send Me SparkMail
Recipes I've Shared:
Portobello "Burgers" with Sunny Pesto Mayo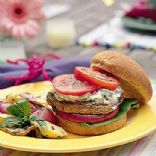 These are 3 Weight Watcher's points each.

This is a "Better Homes and Gardens" recipe. The picture is just one from the internet.
Strawberry Spinach Salad
I got this recipe from "Diet 2010" magazine by Better Homes and Gardens. I am vegetarian, so I left out the chicken it calls for. This reduced the calories from 320 to 166.3!
Recipes I've Rated:
BLONDEREDHEAD1 currently has no rated recipes.