More About LUCELU
Visit My SparkPage
Send Me SparkMail
Recipes I've Shared:
chicken vegetable soup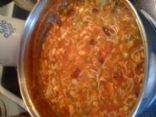 Soup made from leftover chicken, freezer, fridge and pantry items
Vegan bean, vegetable and spinach soup
This recipe makes a consistently delicious soup that is simple to make ahead for a week of lunches. I found this recipe from Zenhabits.com and modified it a little. I estmated the prep time, it didn't take too long.
Recipes I've Rated:
Recipe Collections I've Shared:
Vegan cookbook
I make this with whatever beans I have on hand, Wegmans kitchen cut tomatoes, veggies, froz spinach, peas, vegetable soup base/buillon cubes, Squash, It is very easy. I often serve it over red rice and with some whole grain bread.