More About JSUGAR1
Visit My SparkPage
Send Me SparkMail
Recipes I've Shared:
Veal with Mushrooms and Tomato
Simple and easy, I served this with a rocket salad with 1 teaspoon of balsamic glaze. It was de-lic-ious..... next time I would serve with red rice as well.
Kale with tomatoes and Garlic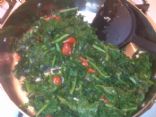 This is a particular favorite in my home, the kids love it too!
Recipes I've Rated:
Recipe Collections I've Shared: