More About MGOODLAD
Visit My SparkPage
Send Me SparkMail
Recipes I've Shared:
Chicken Satay with Peanut Dipping Sauce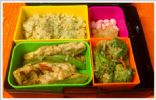 Made lighter and low fat by adding imitation coconut flavoring to skim milk and reducing the amount of sugar added.
Empanada Filling
This is a wonderful recipe that can be used as empanada filling or for soft tacos.
Recipes I've Rated:
MGOODLAD currently has no rated recipes.