More About PLATSUZIE
Visit My SparkPage
Send Me SparkMail
Recipes I've Shared:
Pumpkin Chocolate Cheesecake Protein Drink
developed by Bazmom71 (6/01/09)
I substituted chocolate protein powder and suggested adding banana in lieu of ice cubes. I prefer eating with a spoon rather than drinking. (calorie count is off due to time constraints in posting)
You Won't Believe It's Cauliflower Pizza Crust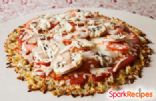 This delicious and easy gluten-free recipe can be frozen until you're ready to eat it.
Recipes I've Rated:
Recipe Collections I've Shared:
Sous-chef Sue
Recipes found on Spark People that I have made and personally rate 5/5 for flavor.