More About WILLOWISPSOLO
Visit My SparkPage
Send Me SparkMail
Recipes I've Shared:
Split the Pot Recipe Contest Finalist: Alaskan Hunter Stew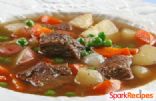 We used to make this recipe for moose or caribou and cooked it in a cast iron stew pot in the oven on very low heat, before the days of crock pots. It lends itself very well to lean cuts of beef with little fat and is great for entertaining during football season!
Shakshouka (mild)
A satisfying and healthy breakfast that gives you protein as well as a jump start on your 5 veggies for the day.
Recipes I've Rated:
WILLOWISPSOLO currently has no rated recipes.