More About LOVE2COOK
Visit My SparkPage
Send Me SparkMail
Recipes I've Shared:
Cilantro-Lime Tilapia with Spinach and Tomatoes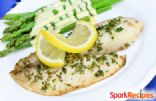 Light and luscious, this simple baked tilapia recipe is just right for your appetite.
Peaches N Cream Cheesecake Cupcakes
A perfect anytime treat with fresh peaches and yummy cheesecake. (low-fat cream cheese version printed here) Make it even better with fat free cream cheese, fat free sour cream, and egg beaters!
Recipes I've Rated:
LOVE2COOK currently has no rated recipes.