More About ANGELELEMENTS
Visit My SparkPage
Send Me SparkMail
Recipes I've Shared:
Blueberry-Strawberry non-dairy
This is a simple smoothie I drink a lot after dinner. I like to make it thick, and it has antioxidants! I promise you won't miss the dairy in other smoothies.
Chicken Tacos (Great for Weight Watchers too!)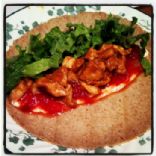 Low Fat. Low Calorie and Delicious!
This recipe can be made to your liking!
I left the cheese out to keep it low calorie.
Recipes I've Rated:
ANGELELEMENTS currently has no rated recipes.