More About DNRNURSE
Visit My SparkPage
Send Me SparkMail
Recipes I've Shared:
Nan's Vegetable Soup
This is a fabulous soup I grew up with, it's my grandmother's recipe. Easy to make once you get past picking the meat off the bone! but it's worth it...
Fresh Fruit Salad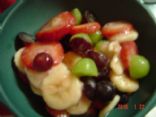 Strawberries, bananas and grapes...fresh & yummy
Recipes I've Rated:
DNRNURSE currently has no rated recipes.