More About CSULLIVAN83
Visit My SparkPage
Send Me SparkMail
Recipes I've Shared:
Mushroom and Spinach Quiche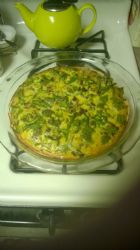 I love this!
Baked Tilapia
I was going through the recipes on the site and LOVE2COOK had one that looked good, but I have never boiled anything, I bake. (I also grill when weather permits, but not the case today). It turned out okay and I will do it again.
Recipes I've Rated:
Recipe Collections I've Shared: