More About DEEDLED
Visit My SparkPage
Send Me SparkMail
Recipes I've Shared:
Mock Potato Candy Protein Bites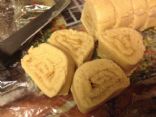 I was being lazy and not wanting to fix a snack before I exercised but wanted some protein. I had tried a recipe for a no bake bar using peanut butter, oatmeal and chocolate protein powder, so thought I would try making it without the oats and with vanilla protein Powder. When I took my first bite I was immediately taken back to my childhood and the potato candy my mom used to make at Christmas. Now I can have it without guilt when I need a quick protein stack.
Italian Squash Pancakes
Get your pancake fix and a serving of veggies at the same time. These are a good high protein breakfast or snack. You may want to double this one ...
Tamale Enchiladas
My husband created this recipe to use some tamale meat I had left over. Unfortunately, my meat calculations for what we used, is estimated, but would be good for making this in the future. The only thign I don't have measurements for is the seasoning for the meat.

Prep time does not include time to cook meat.
Recipes I've Rated: