More About DEELBEE
Visit My SparkPage
Send Me SparkMail
Recipes I've Shared:
Low Calorie Vegetable Beef & Bean Soup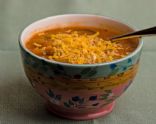 Low calorie and low salt tasty satisfying soup.

Recipes I've Rated:
DEELBEE currently has no rated recipes.


Recipe Collections I've Shared:
Conscious in My Kitchen
I like to invent new recipes, based on the healthy nutritious ingredients I currently have on hand.