More About BREITENBECHERS
Visit My SparkPage
Send Me SparkMail
Recipes I've Shared:
Tuna Salad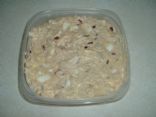 Something to make on a summer day for lunch.
Breakfast Quiche
I Love to make this for Christmas morning or any time. I actually cook it the night before & then reheat it in the microwave for a Quick breakfast when you don't have time.
Recipes I've Rated: