More About HEARTSEASE54
Visit My SparkPage
Send Me SparkMail
Recipes I've Shared:
Black Bean & Corn Salad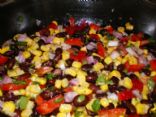 This is a great salad served inside a whole-wheat pita with lettuce, salsa and a wedge of avocado. Great with tortilla scoops to serve as an appetizer.
Recipes I've Rated:
Recipe Collections I've Shared:
Sarah's Recipes
I love to cook! I enjoy making meals that are simple and delicious and can be made during my busy weekday schedule.