More About GATECITY
Visit My SparkPage
Send Me SparkMail
Recipes I've Shared:
resturant rolls (dinner rolls)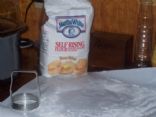 These are like golen corral's sweet rolls. but eat only one! there tempting!
low fat pumkin pie!
a low fat version with the same traditional taste. Good enough to serve at thanksgiving! Without the guilt! The cinnamon and pumpkin blends for a rich, smooth, sweet taste.
Recipes I've Rated:
GATECITY currently has no rated recipes.


Recipe Collections I've Shared: