More About KATEATONIC
Visit My SparkPage
Send Me SparkMail
Recipes I've Shared:
Pumpkin Cheesecake
You won't believe it's 117 calories and only 2.4 grams of fat! This recipe is creamy and delicious and will make you scream, "Let them eat cake!"
Hot Dogs & Wedge Fries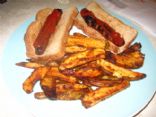 My favourite meal is Hot Dogs and French Fries, so I had to make a lower alternative. This has 600 Calories and 14 grams of fat. I like to have two potatoes, but by having only one potatoe, and using one tsp of oil you can eliminate some calories and it becomes a 450 calories and 9.5 grams of fat.
I was never a big fan of the 98% fat free hot dogs, until I hooked them up with the left over oil and seasonings from the wedge recipe :) Now they are crispy and flavourful!
Also, if you want to save calories, you can probably find some bun or bread for the hotdogs that is much lower (mine is 100 cals a slice)
Ham Sandwich, Pickles, Cheese, Jello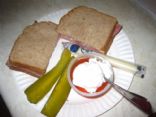 The brands make all the difference! The Oscar Mayer Deli Fresh ham is only 45 calories and 1 gram of fat for 6 slices! You can add mustard if you like. The bread is 100 calories a slice with lots of fiber and protein to keep you full. I'd rather a large slice of bread like this one, but that's a personal preference as I'm a volume eater. The becel light margarine is the best I've found that tastes great. It's a total of 35 calories for a teaspoon on each slice of bread. This was the biggest change for me, as I used to use TONS of margarine or butter, but I realize that if I spread this margarine thinly, it still has flavour and moistness to the bread (I don't like Mustard).
Pickles are 4 calories for 2 slices, but they are high in sodium, but I like them. I suppose if you were super healthy you could have cucumber slices or a low calorie vegetable, but I'm not there yet. The Weight watches cheese strings are amazing!!! 50 calories of complete salty yumminess. The 95% fat free Cool Whip is only 8 calories a tablespoon, and it makes a big difference on the 10 calorie jello. Who knew an 18 calorie dessert could be yummy?! This is my 352 calorie lunch :)
Recipes I've Rated:
Recipe Collections I've Shared:
My Meals
I'm not a cook at all, but I wanted to log the meals I eat that are filling and low in calories and fat!