More About 3BOYZ2FEED
Visit My SparkPage
Send Me SparkMail
Recipes I've Shared:
Stuffed Tomatoes
these tomatoes are GREAT! Very tasty and very easy to put together
Baked Chicken Salsa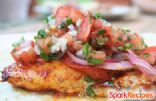 4 ingredients, 5 minutes of prep time--and no mess to clean up!
EASY Bake Tilapia
In the mood for something simple and tasty? Try this SIMPLE Tilapia recipe. You will LOVE it!
Recipe Collections I've Shared: