More About DANIELLEY128790
Visit My SparkPage
Send Me SparkMail
Recipes I've Shared:
Dijon chicken with portabella mushrooms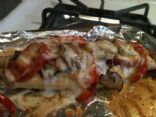 This was my attempt to recreate Applebees under 550 meal. This turned out pretty well and my whole family enjoyed it!
Italian Bagel Thins
This is a wonderful little treat that is easy to throw together and can be altered to fit anyones taste.
Recipes I've Rated: