More About SHANIGENTRY
Recipes I've Shared:
Vegan Lemon Cake
Sarah's lemon cake, adjusted to replace eggs, butter and milk for applesauce, olive oil and orange juice
Quinoa Salad with Spring Radishes and Greens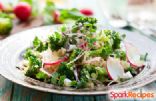 Light and refreshing, this salad is packed with the flavors of spring. Pair it with a simple roast chicken.
Recipes I've Rated:
SHANIGENTRY currently has no rated recipes.