More About TORKA1
Visit My SparkPage
Send Me SparkMail
Recipes I've Shared:
Veggie-riffic Chicken Bake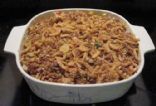 This is a good recipe for "experimenters," as it's easy to substitute ingredients. For instance, try swapping frozen peas & carrots in place of the mixed veggies, or try different seasonings to give the dish a whole new flavor.
Yellow Squash Souffle Casserole
This works really well for people who don't necessarily care much for squash (like my husband, who hates squash, but loves this casserole). The smooth texture and herb seasoning help "mask" the squash.