More About LUANNPIERCE
Visit My SparkPage
Send Me SparkMail
Recipes I've Shared:
Gluten Free Broccoli and Butternut Squash Casserole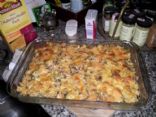 Yummy GF casserole - you can lower the fat and calorie count by using low fat ingredients. Only 96 calories per cup with this recipe.
Southwestern Soup w/ Ground Beef
140 calories per cup. Easy to make with fresh or canned/frozen veggies. Make in crockpot or stovetop. Warn and filling! Pour over tortilla strips and top with cheese and sour cream (but add the calories).
Recipes I've Rated:
LUANNPIERCE currently has no rated recipes.