More About WENDYKSHANK
Visit My SparkPage
Send Me SparkMail
Recipes I've Shared:
"Carrabba's" sausage and lentil soup
For calculations I used 1 pound of turkey sausage (it did not need draining), and it yielded about 20 cups of soup once it was done simmering (I kept adding a little water & some extra chicken stock powder).
Roasted shrimp and Harvest Grains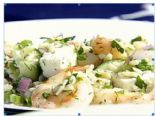 Served cold or room temperature, a great brunch or light supper, and wonderful as leftovers.
Recipes I've Rated:
WENDYKSHANK currently has no rated recipes.