More About ILOVEPOTATOES
Visit My SparkPage
Send Me SparkMail
Recipes I've Shared:
Baked Oatmeal
The perfect breakfast for on the go! I make one of these, then portion and bag each and freeze half. Then, I have the perfect post-gym breakfast before work that doesn't require a microwave to enjoy.
No-Bake Black Bean Energy Bar Recipe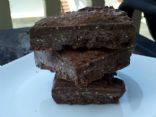 This easy to make black bean bar provides a great array of nutrients and tastes quite similar to a brownie.
Chocolate Protein Muffin
Using coconut flour, egg whites and cocoa powder, you can create a super easy, protein-rich chocolate muffin similar to Vita-tops.
Recipes I've Rated:
ILOVEPOTATOES currently has no rated recipes.