More About THEBLONDEGENIUS
Visit My SparkPage
Send Me SparkMail
Recipes I've Shared:
Easy Lean Beef Stew
Easy stew, makes a lot!
You can tailor this recipe to whatever you have on hand or whatever you like in your stew. No pearled barley? Use brown rice. I use home canned spicy Ro-Tel style tomatoes. This is really helpful if I don't have onions on hand. Be creative!
Serve with dense bread, crackers, or on its own. You can add a little grated cheese to the top when you serve it.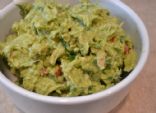 Recipes I've Rated:
Recipe Collections I've Shared: