More About MINTAG
Visit My SparkPage
Send Me SparkMail
Recipes I've Shared:
Salame di cioccolato (Chocolate Salami)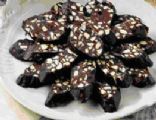 This recipe is a Christmas Must for my family (and my colleagues!). It is really easy to prepare so teach your kids how to make it.
Crunchy Chicken
From Italy: this recipe for Breaded Baked Chicken is quick, easy, loved by all and even good the next day.
Recipes I've Rated:
MINTAG currently has no rated recipes.