More About CMTRAN85
Visit My SparkPage
Send Me SparkMail
Recipes I've Shared:
Post Workout Avocado Smoothie
I experimented with this when trying to figure out what to do with the 1/4 avocado I had left in the fridge! It turned out so yummy!! It has a great balance of carbs, fat, and protein and makes a great post-workout smoothie. Plus it's high in fiber and low in sugar!
Baked Polenta with Sausage and Tomato-Pepper Sauce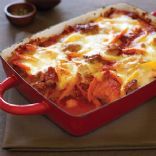 This simple casserole makes a comforting weeknight dinner as the weather turns cooler. Using ready-made polenta saves you the step of making it from scratch, and our quick tomato sauce can be cooked in just 25 minutes. All you need is a fresh green salad and a loaf of crusty Italian bread to round out the meal. Prep and Cook Time: 45 minutes. Notes: Prepared polenta is sold in most major supermarkets; look in the Italian-food aisle (where pastas and sauces are sold) or in the refrigerated section.
Recipes I've Rated:
Recipe Collections I've Shared:
Low Calorie Desserts
Who says dessert has to be high in calories? Here's a collection of low-calorie, guilt-free desserts to satisfy the sweet tooth in us.

Smoothies
A collection of all kinds of smoothies, between 100 - 300 calories