More About MRSBOSSYPANTS
Visit My SparkPage
Send Me SparkMail
Recipes I've Shared:
Duncan Hines Red Velvet Cake with yogurt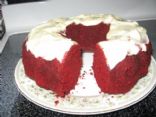 Make a moist and delicious red velvet cake or 20 cupcakes with a lot less fat and calories by omitting the eggs and the oil (that the mix reciped calls for) and replacing them with 8 oz. of low fat plain yogurt.
Recipes I've Rated:
MRSBOSSYPANTS currently has no rated recipes.