More About HARPSTRINGS12
Visit My SparkPage
Send Me SparkMail
Recipes I've Shared:
Whole Wheat Blueberry Pancakes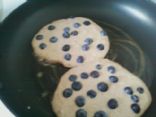 I use 1/4 cup to measure out my pancakes. This recipe makes 6 pancakes. Double if you need more. I place the blueberries, on the pancakes after I pour the batter into the pan, that way you don't have a lot of berries in one spot.
Recipes I've Rated:
Recipe Collections I've Shared:
Low Carb Cookbook
I'm going to do a Low Carb collection of recipes. Low Carb dieting seems to be the only thing that really works for me.