More About CASHTON713
Visit My SparkPage
Send Me SparkMail
Recipes I've Shared:
Easy Nutella Banana Cookies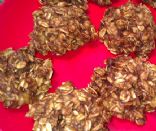 I saw a bunch of recipes for cookies made only with bananas and oats. Problem is, I don't like bananas, so I tossed in some Nutella to mask the icky banana taste and boom! Yummy, butt kickin, healthy cookies :)
Tex-Mex Turkey Loaf
This is an experimental recipe at this point. I'm trying it tomorrow and will update after!
Recipes I've Rated:
CASHTON713 currently has no rated recipes.


Recipe Collections I've Shared:
Broccoli!
Broccoli is one of my favorite vegetables, but getting my family to enjoy it with me has always been a chore. So I've decided to try and collect as many tasty, fun broccoli recipes as I can, to change their minds!