More About ROSENBEAR
Visit My SparkPage
Send Me SparkMail
Recipes I've Shared:
Chicken and Sun Dried Tomatoes with Asparagus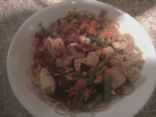 Serve over whole wheat pasta.
Recipes I've Rated:
ROSENBEAR currently has no rated recipes.


Recipe Collections I've Shared:
My Cookbook
I have been creating and collecting recipes since I was in Junior High. I have since been to culinary school and love to cook. To bad I am not much of a baker!