More About WEYESWOMAN
Visit My SparkPage
Send Me SparkMail
Recipes I've Shared:
Smooth Start Smoothie
This is a delicious, refreshing and very smooth green smoothie that is loaded with treats for your body. A great way to start you day.
Abbey's 'Less is More' Brownies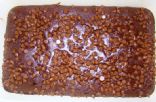 Flourless, Dairyless -- and Yet, Decadent
Recipes I've Rated:
WEYESWOMAN currently has no rated recipes.