More About COLORMASTER
Visit My SparkPage
Send Me SparkMail
Recipes I've Shared:
Oatmeal No-Knead Artisan Bread
This recipe is from Artisan Bread in 5 Minutes a Day and makes 3 small loaves, each yielding 12 slices each. I adapted it a bit to use what I had at home.
Frozen Chocolate Chip Cookie Dough Bites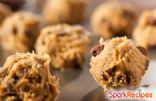 Great treat that feels decadent but it actually low in calories and high in protein.
Recipes I've Rated:
COLORMASTER currently has no rated recipes.