More About KITTY4
Visit My SparkPage
Send Me SparkMail
Recipes I've Shared:
Chocolate Creme Brule
Lucious creme brule, sans the sugar coating. Great for low carb and low glycemic load diets.
Easy Peazy Ham and Pea Soup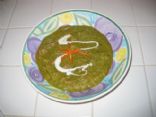 Quick and easy hearty soup for a cold night
Recipes I've Rated:
Recipe Collections I've Shared:
Di's Cookbook
Things that I want to try. I'll give my reviews of those that I do.