More About REDBONNIEANN
Visit My SparkPage
Send Me SparkMail
Recipes I've Shared:
Frozen sugar free geletin pops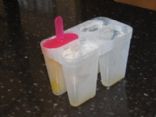 These cool treats are sweet and flavorful and you can be as creative as you want with the many different flavors you can use.
Strawberry is my favorite so those are the flavors I will use.

Recipes I've Rated:
Recipe Collections I've Shared:
Low Carb recipe
Recipes I like from SPARKPEOPLE and other sites. Started adding my own too.