More About HELLO_LINNY
Visit My SparkPage
Send Me SparkMail
Recipes I've Shared:
Turkey Patties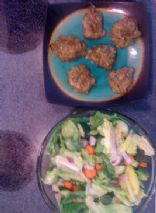 Amazingly lean turkey patties with some veg!
Splenda Brownies
These are easy, quick, sugar-free brownies. They would probably be a bit better with a little bit of baking powder added to the mix, as they come out quite dense.
Recipes I've Rated:
HELLO_LINNY currently has no rated recipes.


Recipe Collections I've Shared: