More About LASTTIME24
Visit My SparkPage
Send Me SparkMail
Recipes I've Shared:
Single Serving Chicken, Broccoli, Rice
I love broccoli rice casserole but I don't always love the calories that come with the amount I want to eat. This satisfied my craving very easily! Delicious
Grilled Veggie Wraps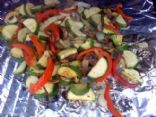 Delicious summer dish, that won't put a dent in your day
and SIMPLE!
Recipes I've Rated: