More About DEZZIEJAMES
Visit My SparkPage
Send Me SparkMail
Recipes I've Shared:
Blueberry Oatmeal Flax Pancakes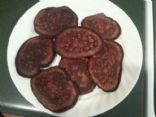 I got this gluten free pancake recipe from the Eating Clean Diet website, and altered it to fit my family's needs. Enjoy!
Rehydrating Banana Milkshake
I split this delish protein shake with my daughter for breakfast on mornings we're in a hurry to get out the door. Don't forget to add ice to the mixture before you put it in the blender to thicken it and give it that icy cold shake texture! This is also very good for a morning after you have consumed too much "spirits" as the potassium helps to restore health to your damaged cells.
Recipes I've Rated: