More About TOM.BROX
Visit My SparkPage
Send Me SparkMail
Recipes I've Shared:
Shrimp & Vegetables in Oyster sauce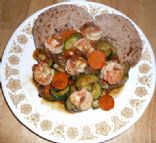 Shrimp with Vegetables in Oyster sauce
Prep time 30 minutes. Cook time 20 minutes.

Vegetable Curry
Cabbage with vegetable in a cumin curry. Great with plain yogurt
Curry cabbage with mustard seeds
Makes about 6, 1 cup serving sizes. about 135 calories per serving. Indian fusion cabbage dish. Low calorie and vegetarian. Could be a main dish or a side dish. For a main dish add more Tofu to increase the protien.
Recipes I've Rated:
TOM.BROX currently has no rated recipes.