More About JULIA75
Visit My SparkPage
Send Me SparkMail
Recipes I've Shared:
Sweet potatoes with carrots and kidney beans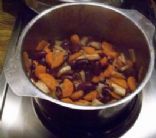 very simple to prepare and surprisingly tasty, preparation time estimated high to be the safe side. It consists almost entirely of cutting up the veggies.
Recipes I've Rated:
Recipe Collections I've Shared:
mission 101
Among the 101 goals i want to reach in the next 900 days there are: loose 20 pounds do 40 hours cardo and bind a cook book This is the electronic version of what will end up as a book in my kitchen.