More About MSLANDRY01
Visit My SparkPage
Send Me SparkMail
Recipes I've Shared:
Bacon Cheeseburger Salad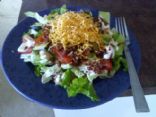 Oh So Filling!
Spicy Seafood Sauce
This is a spicy sauce that is an ideal pairing with brown rice. It can also be poured over baked fish. It's definitely not for the faint at heart, but it is quick to prepare and can easily feed a family of four.
Recipes I've Rated: