More About ANOTHERDAY2TRY
Visit My SparkPage
Send Me SparkMail
Recipes I've Shared:
Basic Potato Soup without dairy
I am lactose intolerant and I'm not always sure what goes into the potato soup at restaurants whose potato soup I like. This one is made with lactose intolerant people in mind.
Nutrition Packed Breakfast Smoothie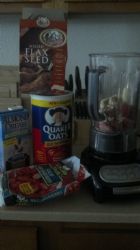 This smoothie will help you get a jump on the dietary recommendation for fruits and veggies for the day. Filling, packed with vitamins, fiber, and taste, this smoothie will leave you feeling great and satisfied.