More About MZKT313
Visit My SparkPage
Send Me SparkMail
Recipes I've Shared:
Easy Strawberry Smoothie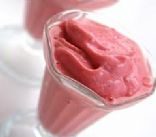 This smoothie is really easy, tasty, cool and refreshing.

MzKT313's Healthy Oatmeal Honey Cluster Topped Muffins
These muffins have oat meal and whole wheat flour, which makes up the fiber content. They also use crushed Fiber One Honey Clusters cereal and apple sauce to keep them moist! A delicious breakfast snack that goes great with a glass of cold milk.
Recipes I've Rated: