More About KTFREIJ
Visit My SparkPage
Send Me SparkMail
Recipes I've Shared:
Poor Man's Portabella Curry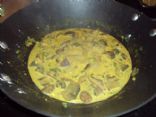 This was a day before payday dinner. I served it over rice.
Hamburger Rice (9 Pts+)
This is our stand-by meal that everyone in the family loves and has relatively few ingredients. Make it extra healthy by using low-fat Cream of Mushroom soup and the leanest ground meat.
Recipes I've Rated:
KTFREIJ currently has no rated recipes.


Recipe Collections I've Shared: