More About SSSCOLLINS
Visit My SparkPage
Send Me SparkMail
Recipes I've Shared:
Slow Cooker Chicken Tortilla Soup
Serve with Golden Flake Maizetos Tortilla Chips (they are the best!), a sprinkle of cheese, and/or a dollop of low fat or fat free sour cream.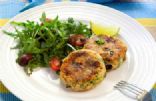 Baked Salmon Patties with Chia Seed
Chia seeds are supposed to be one of nature's super foods with 3100 mg of Omega-3 and 1050mg of Omega-6 and high in dietary fiber. They are recommended for diabetics. Although I am not diabetic, I use diabetic recipes for great low-carb choices. This recipe is modified from a dlife recipe. I only use Alaska wild caught salmon, and I drain it and remove the skin pieces so the numbers I've put in may not be totally accurate.
Recipes I've Rated: