More About ANET191
Visit My SparkPage
Send Me SparkMail
Recipes I've Shared:
Crab Cakes - low sodium
Ingredients:
Onions, raw, 2 tbsp chopped (remove)
Parsley, 1 tbsp (remove)
Mayonnaise, regular (mayo), 1.5 tbsp (remove)
Lemon Peel, .5 tsp (remove)
*Lemon Juice, .05 cup (remove)
Pepper, black, .25 tsp (remove)
Pepper, red or cayenne, .02 tsp (remove)
Egg, fresh, 1 large (remove)
*Planko Bread Crumbs, 100 gram(s) (remove)
*Crab (Phillips), 453. gram(s) (remove)
Olive Oil, 1 tbsp (remove)

Add first 8 ingredients, mix, then add panko & crab. Refrigerate for 30 min. Patty in 1/3 cup and press out for patty. Saute in Olive oil 4 min. per side, and enjoy!
Refreshing 4 Berry Yogert Drink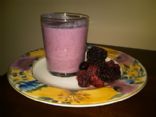 Mix all ingredients in Blender or Vitamix machine until completely smooth.
Recipes I've Rated: