More About DOINGIT4ME2011
Visit My SparkPage
Send Me SparkMail
Recipes I've Shared:
Awesome Chicken Enchiladas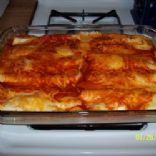 These enchiladas are fairly easy to make, not to high in calories and taste so yummy! Not too heavy like most enchiladas. My family loves them. Give 'em a try!
PB&J Parfait
Get your peanut butter & jelly craving fulfilled in a light, delicious way! Quick & easy base recipe for a parfait!
Recipes I've Rated: