More About BERNADETTEA36
Visit My SparkPage
Send Me SparkMail
Recipes I've Shared:
Ground beef kabob
This an Arabic recipe for grilled ground beef or ground chicken/turkey.
Homemade tomato and meat sauce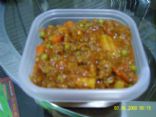 This is a sauce I make for over rice and pasta. It is full of fresh veggies and is easy to make.
Recipes I've Rated:
Recipe Collections I've Shared:
Sweets
I have a sweet tooth and instead of giving-up my love of them I rather create healthier versions of them. These are some of what I have found so far that have caught my taste buds.